If you're wondering what is MSI X-Boost and what it does, you're not alone. Recently I've bought a MSI B450 Gaming Plus motherboard and noticed the software on the CD. After taking some time to research, this article is the result. I'm going to show you what MSI X-Boost is and what it does to increase your system performance.
What is MSI X-Boost?
MSI loves to develop its own proprietary utilities and MSI X-Boost is one of them.
Essentially, it activates MSI's technology built into the mainboard to increase the speed of storage devices.
According to the manufacturer, activating MSI X-Boost can speed up copying and writing to flash storage devices and hard drives by up to 30%. Sounds good, right?
But that's only the number in theory. The reality is, you won't get a big performance just by running the software.
Real-world testing number has not shown any meaningful difference between writing/reading speed with and without MSI X-Boost on.
What Does MSI X-Boost Do?
According to the little information I've found, X-Boost optimizes settings for the fastest possible data transfer. After activating it, you will notice that you have to wait less for your favorite game to load or large files to be copied.
The utility has two modes: Easy and Advanced.
In Easy page, you can select one system performance mode to match the current system environment. There are pre-built Game , Office , Home Theater , FileTransfer or Video Editing modes. To enable one of them, simply switch the slider to ON .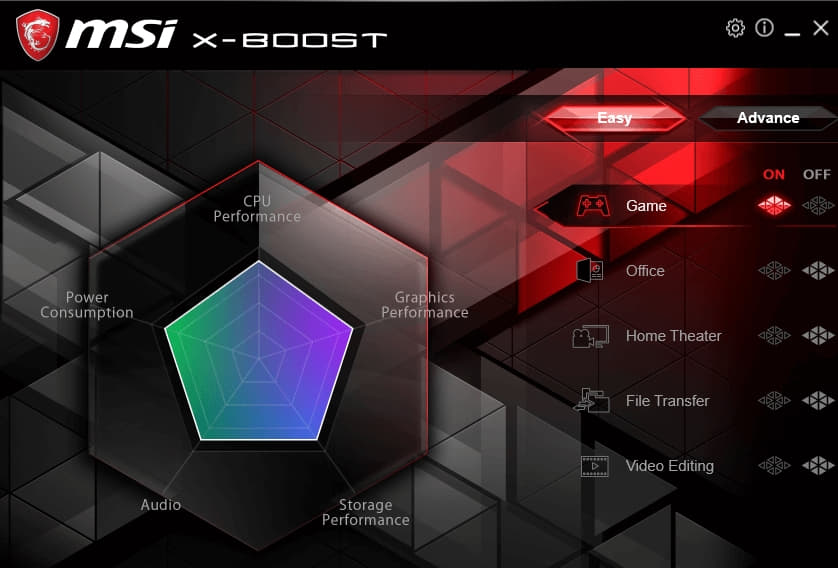 The infographic provides general information about performance. A performance diagram is displayed in which you can see the priority of performance (CPU Performance, Graphics Performance, Power Consumption, Audio, Storage Performance).
When enabled, MSI's X-Boost software optimizes your devices for even higher transmission speeds. This can provide up to 30% increase in USB performance in theory, which saves a lot of time in data transfer. Aside from that, the speed depends on the drive itself.
In the Advance section, you can enable USB SPEED UP , STORAGE BOOST or VR BOOST . In the left part of the window there is a list of connected devices and working read and write speeds. You can simply turn on the desired boost and check the actual read/write speed to see if there's a difference.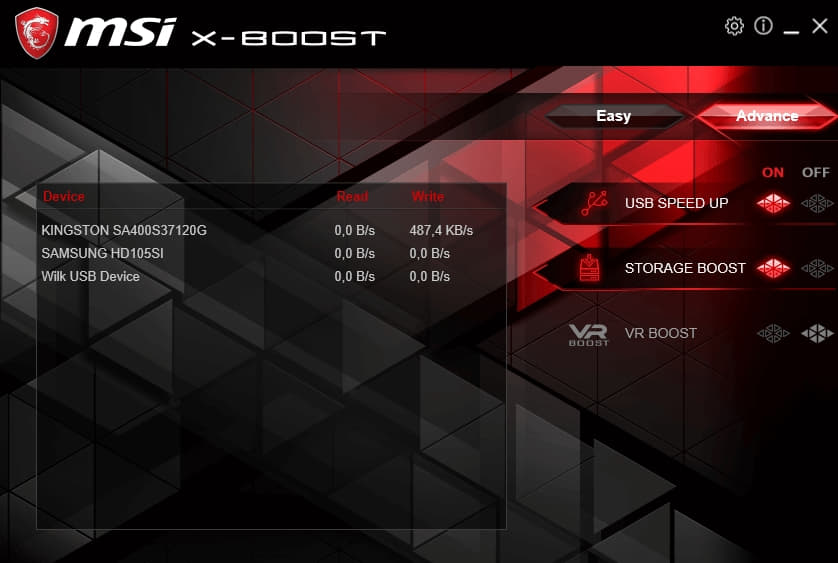 USB SPEED UP – Brings support for high transfer speeds to USB.
STORAGE BOOST – Provides faster access to the storage device.
VR BOOST – Includes optimized settings for the best VR experience.
Do I really need MSI X-Boost?
The short answer is no. We did our test and found that MSI X-Boost does not bring any big performance gain.
That's not to say it doesn't work at all. Instead, the software may increase storage speed for a specific scenario or workload.
If you really want raw performance, I'd say just you'd better off with only the actual drivers and avoid auto-overclocking software such as MSI X-Boost. You would have more memory and CPU power for the more important task.